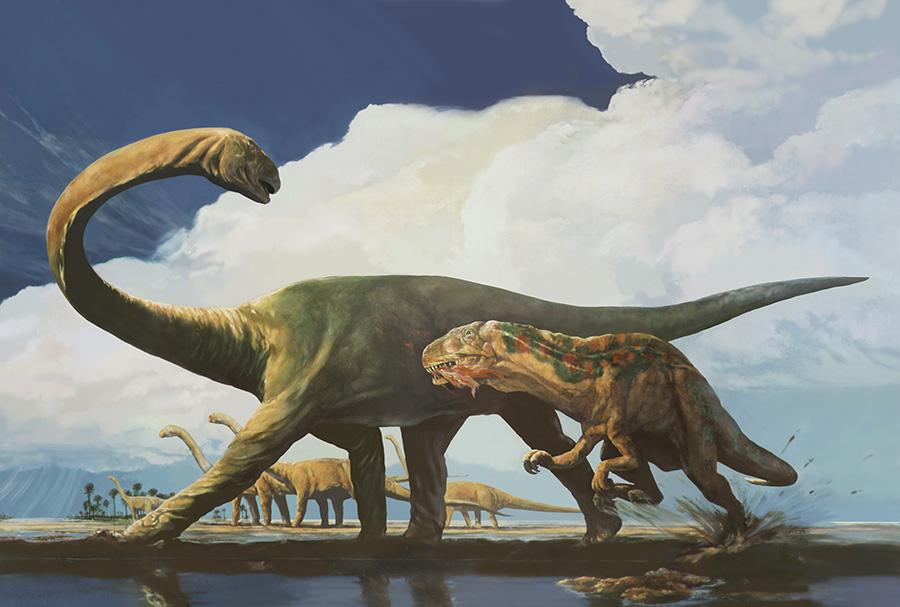 Time period shown: Cretaceous

Pictured:
Pleurocoelus and Acrocanthosaurus

About this image:
The dinosaur tracks preserved in the bed of the Paluxy River, near Glen Rose, Texas, are among the best known and most studied in paleontology. They clearly capture the footprints of the huge herbivore Pleurocoelus and a hunting carnivore, Acrocanthosaurus, in tracks laid down side by side.

For 70 years, scientists and dinosaur fans alike have marveled at the tracks and have pondered whether the trackway preserves direct evidence of a confrontation between these two Cretaceous heavyweights. Noted paleontologist R.T. Bird, who worked on the trackway in the 1930s, thought so. Other scientists are unsure. Either way, the tracks emphasize the close relationship between Cretaceous predator and prey.

Karen's "Glen Rose Confrontation" is carefully modeled from the actual steps preserved in the riverbed. Before painting her mural, Karen modeled the riverbed and reconstructed her animals in footprints from the riverbed. Her limited edition bronze sculpture, also entitled "Glen Rose Confrontation," was then built up over the very steps preserved in stone. The painting you see above was then created using the anatomical model as a direct reference. The result is a beautiful work that skillfully combines physical science, paleontology and the artistic process.

If you would like to see the Paluxy River trackway, a trip to Glen Rose—southwest of Fort Worth—is a delightful family outing. But you can also see the trackway at the American Museum of Natural History, in New York, NY. Works Progress Administration crews dug up a portion of the trackway in the 1930s and transported it to the museum for study and display.

Did you know?
This famous confrontation is the subject of Karen's book for children, "Dino Hunt", published by HarperCollins.