Big Bend T. Rex portrait alternate detail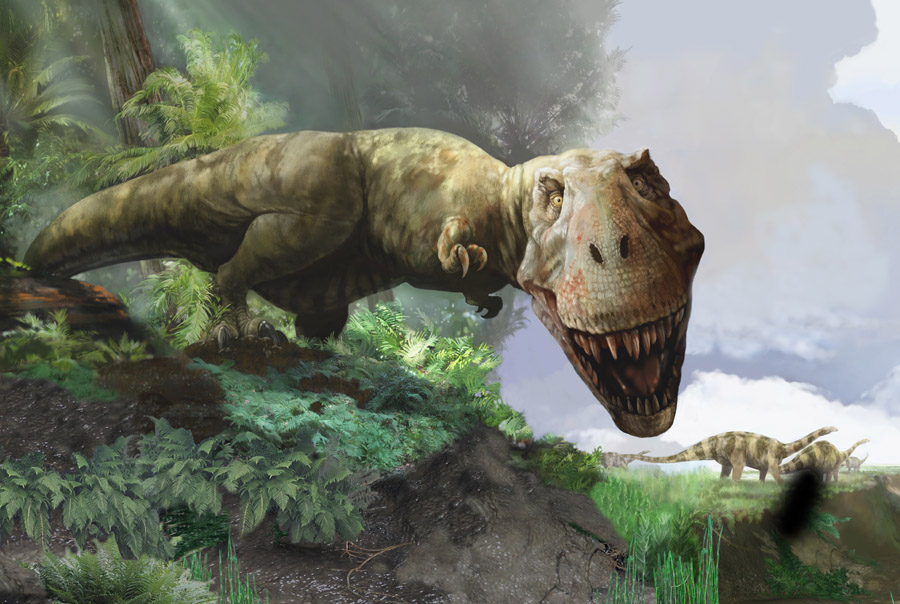 Time period shown: Cretaceous
Pictured:
Tyrannosaurus Rex, Quetzalcoatlus and Pleurocoelus
About this image:
Karen's better-known version of this mural can be
seen here
.
Notes:
Tyrannosaurus Rex's six-inch teeth have been described as looking like "lethal bananas" because of their size and curved shape. But while Rex was undoubtedly fierce, carrion and scavenging may have supplied some of his -— or her -— diet.
Karen's "Big Bend T. Rex" captures a moment in the Cretaceous Period of what is now far west Texas, in the area known as Big Bend. In addition to Rex, Karen's mural includes Quetzalcoatlus, the giant aviators of the Cretaceous skies, and herds of Pleurocoelus, appearing both as a grazing herd in the background as a T. Rex main course in the foreground.