Pachyrhinosaurus perotorum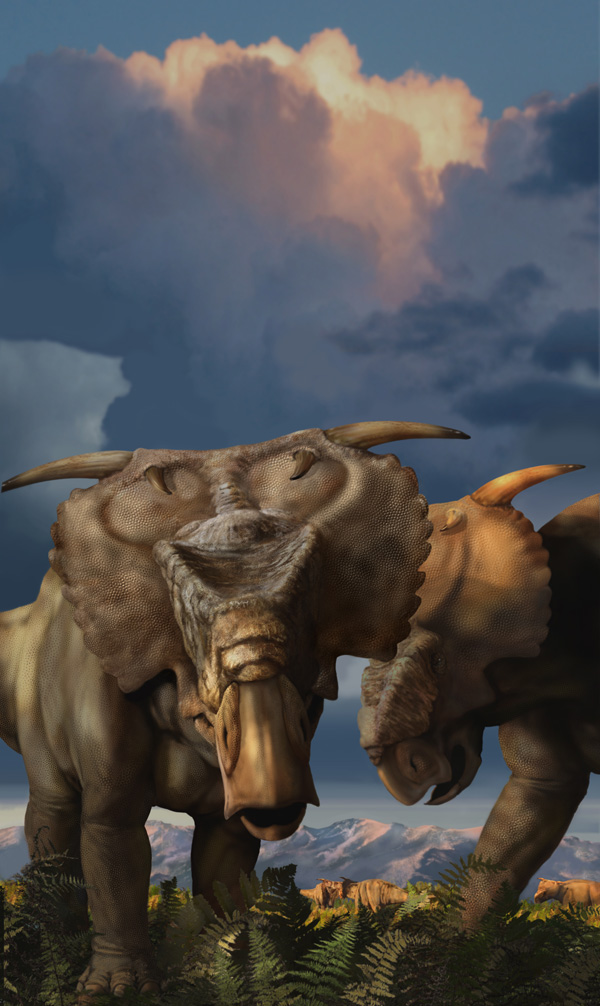 Time period shown: Cretaceous
Pictured:
Pachyrhinosaurus perotorum, a new species of dinosaur found in northern Alaska by Dr. Tony Fiorillo of the Dallas Museum of Nature and Science.
About this image:
From the Anchorage Press:
By Ned Rozell
"There's a new kind of dinosaur out there, and it lived in Alaska. Its bones, long turned to stone, are part of a cliff in northern Alaska. That's where dinosaur-hunter Tony Fiorillo brushed dirt away from a portion of its massive skull - something that most of us would mistake for a rock.
The year was 2006. It was August and summer had fled the Colville River, if it had been there at all. Fiorillo, who visits Alaska each summer from Dallas, where he works at the Museum of Nature & Science, remembers climbing from his tent with a heavy head every morning. He later learned he was working with pneumonia.
On one wet, miserable day, Fiorillo was clinging to a hillside above the river, spading the soil gently with a trowel. Noticing an unusual lump, he picked up a brush to gently whisk the dirt away. Suddenly, an entire skull came into focus, and he felt a warm flush of discovery."
Read more...
Did you know?
Fiorillo and his team named the dinosaur Pachyrhinosaurus perotorum in honor of the family of former presidential candidate H. Ross Perot. In 2008, Perot's children donated $50 million to the Dallas Museum of Nature & Science. The dinosaur is similar to two other thick-nosed species paleontologists have found, one in southern Canada and one in northern Alberta. But the Alaska version has subtle differences and is the youngest of the three by a few million years.
Notes:
Weighing in at about four tons, standing seven feet high on four legs and about 18 feet long, it's roughly the size of a rhino, eats plants, and is from the Late Cretaceous, around 70 million years ago. Paleontologist Anthony R. Fiorillo, Ph.D., and his team discovered this new species of ceratopsid (horned) dinosaur Pachyrhinosaurus near the Colville River on BLM-managed lands in Alaska. Fiorillo, from the Museum of Nature & Science in Dallas, Tex., announced the discovery of Pachyrhinosaurus perotorum at the Society of Vertebrate Paleontology 71st Annual Meeting Nov. 2-5 in Las Vegas, Nev.
The dinosaur discovery actually happened over the summer of 2006. While performing exploration work near the Colville River on land within the National Petroleum Reserve-Alaska, Dr. Fiorillo's team excavated a large deposit of hundreds of bones, including some partial skulls, from at least 10 individual Pachyrhinosaurus dinosaurs. The find was unprecedented.
"Discovering hundreds of bones from all these pachyrhinosaurs in one spot was unbelievably exciting, and we really thought the expedition was an incredible success. To later realize that we had unearthed a whole new species was one of the best days of my career," said Dr. Fiorillo.
Because of the jumbled and fragmentary nature of the materials recovered in 2006, it took over four years of painstaking study of the remains in Dallas to reveal that the dinosaurs were a new species of Pachyrhinosaurus. In early 2011, Dr. Fiorillo and his colleague Dr. Ronald S. Tykoski were stunned and excited when newly cleaned and reassembled pieces clearly showed that they had found a new species of Pachyrhinosaurus. The species is based on a partial skull and two fragments of parietals, which in Ceratopsians are the bones that formed the frill, a boney structure extending from the back of the skull over the dinosaur's neck. The remains showed significant morphological differences from any prior Pachyrhinosaurus remains found elsewhere in the world, including from parts of northern Canada.
What makes the new species special is that it was a polar dinosaur, living on a landscape dominated by coniferous trees. These dinosaurs lived in herds demonstrating that the ancient Arctic was a rich biological ecosystem. When P. perotorum lived around 70 million years ago, the part of Alaska where it was found was warmer than today. It was also a time when Alaska was situated at latitudes similar to or even higher than its current geographical position, meaning that its northern inhabitants experienced extended periods of winter darkness. How such dinosaurs lived in those conditions is a key question still studied today.
A full life-size reconstruction of the new dinosaur will be featured in the Dallas Museum, recently renamed the Perot Museum of Nature & Science due to the strong support of the family of Ross and Margot Perot, for whom the new dinosaur is named.
For additional information, go
click here.