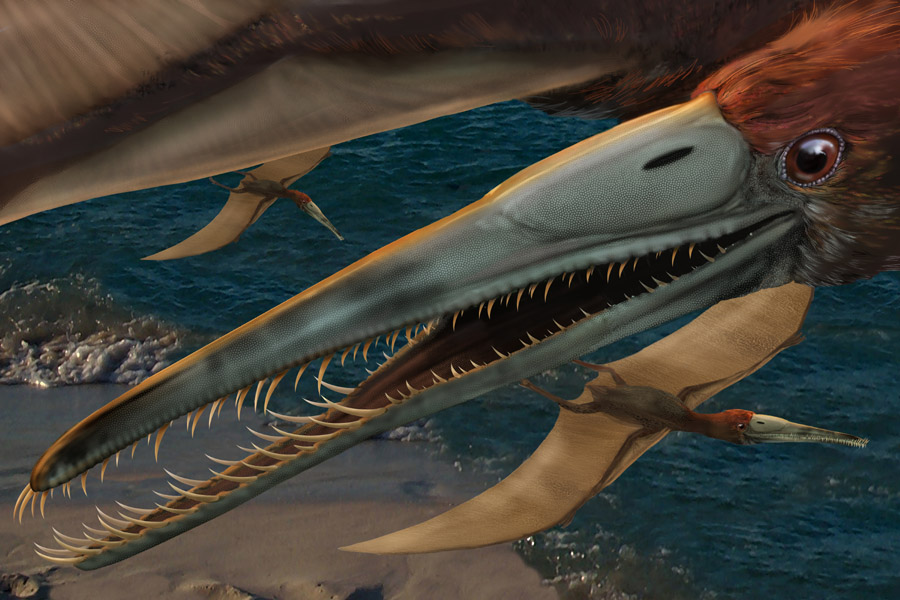 Time period shown: Cretaceous

Pictured:
Aetodactylus halli, a newly described toothed pterosaur

Did you know?
This rare pterosaur -- literally a winged lizard -- is also one of the youngest members in the world of the pterosaur family Ornithocheiridae, according to paleontologist Timothy S. Myers, who identified and named Aetodactylus halli. The newly identified reptile is only the second ornithocheirid ever documented in North America, says Myers, a postdoctoral fellow in the Huffington Department of Earth Sciences at Southern Methodist University in Dallas.


Notes:
Would you like to know more? Read about this amazing fish-hunting pterosaur here: T. S. Myers. 2010. A new ornithocheiroid pterosaur from the Upper Cretaceous (Cenomanian-Turonian) Eagle Ford Group of Texas. Journal of Vertebrate Paleontology 30(1):280-287 [R. Butler/R. Butler].

From the paper: "The specimen was discovered in 2006 near a construction site in Mansfield, southwest of Dallas, Texas. The material, consisting of a nearly complete mandible with most teeth missing, was preserved in sandy, shallow marine deposits of the Tarrant Formation of the Upper Cretaceous Eagle Ford Group... The age of the Eagle Ford Group is middle Cenomanian to late Turonian (96–90 Ma) based on ammonite biostratigraphy, with an estimated middle Cenomanian age (96 Ma) for the Tarrant Formation..."