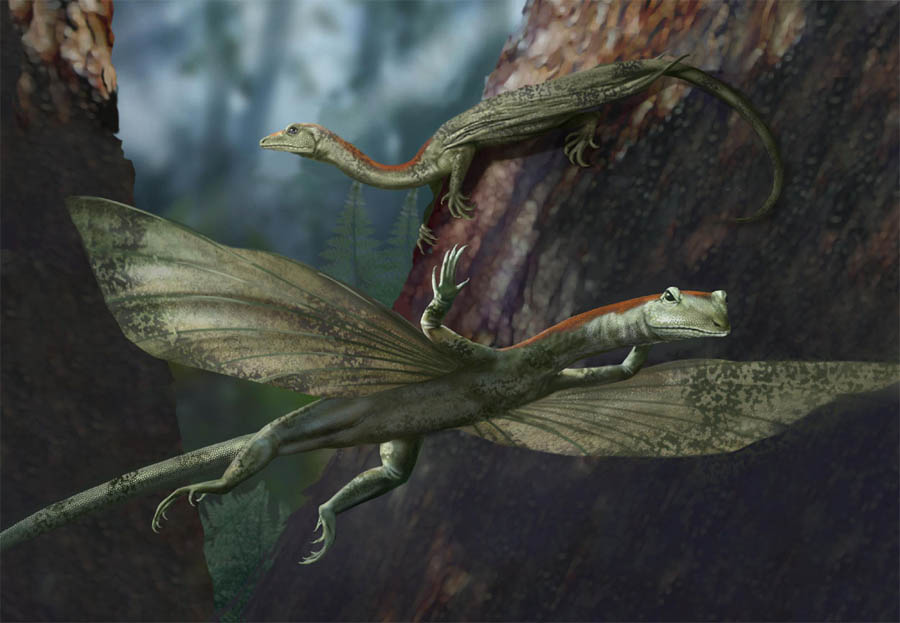 Time period shown: Triassic

Pictured:
A winged, gliding reptile

About this image:
Mecistotrachelos apeoros is a fascinating diapsid reptile found fossilized along the Virginia and North Carolina border. The glider was found in a series of fossilized formations identified as having been a marshy swamp area during the Upper Triassic.

Mecistotrachelos' long neck is especially unusual in a gliding reptile: Unlike modern long-necked herons and other birds, Mecistotrachelos would not have been able to carry its neck and head in a curved "S" shape. Rather, it would have glided with its neck and head extended, a characteristic that is potentially very unstable in a gliding animal.

Did you know?
This amazing discovery was first described by Dr. N. C. Fraser and Dr. A. C. Dooley of the Virginia Museum of Natural History, and by Dr. P.E. Olsen of Columbia University and Dr. T.E. Ryan of Pennsylvania State University. Their work appears in the June, 2007, issue of the Journal of Vertebrate Paleontology.

Karen's illustrated reconstruction of Mecistotrachelos was created with the generous assistance of the authors and is the first color illustration to appear on the cover of the Journal.