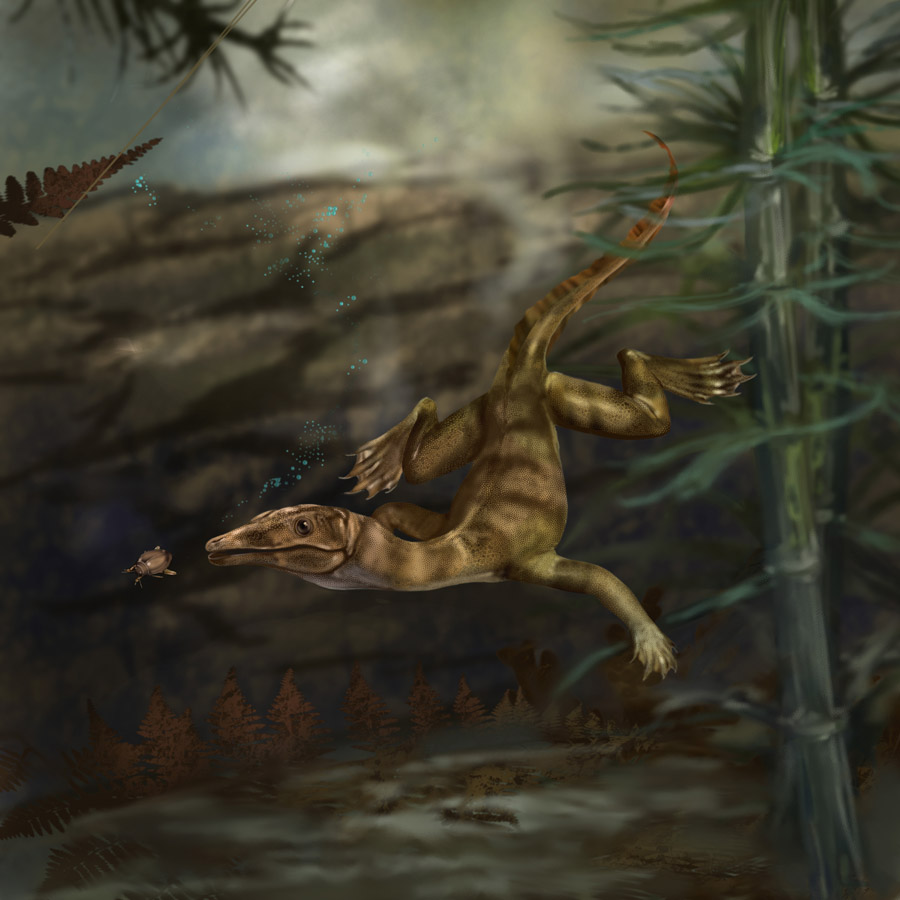 Time period shown: Triassic

Pictured:
Tanytrachelos

Did you know?
Tanytrachelos (tany-trake-elos) is a small reptile common in the Solite layers of Virginia's Solite Quarry. Tany ate insects. It could both swim in water and move on land. Dinosaur tracks have been found in Virginia, including at the Solite Quarry, but no dinosaur bones have yet been found in Virginia.


Notes:
Solite Quarry – Pittsylvania County, Virginia – 225 million years ago

The Solite quarry is the only locality anywhere in the world with a number of complete fossils of insects from this time period. Many of the Solite insects closely resemble their modern counterparts, and this site is famous for having the oldest records for many living insect families and orders.

This was once the site of a deep lake, and today numerous animal and plant fossils are preserved in layers of shale. These layers are represented in the exhibit by part of the quarry face.

The fossils are often the same color as the rock, and the fossils can't be separated from the rock, so Dr. Nick Fraser, who works at this site, uses a CT scan to examine the fossils. CT is an abbreviation for Computed Tomography. Physicians use CT scans to create 3-dimensional images so they can diagnose problems with brains and other organs and blood vessels. The lab experience for Solite will include an interactive where visitors can scan through the rock to pick out details of a fossil of a gliding reptile that Dr. Fraser has found at Solite.