Homo habilis butchering with stone-flake knives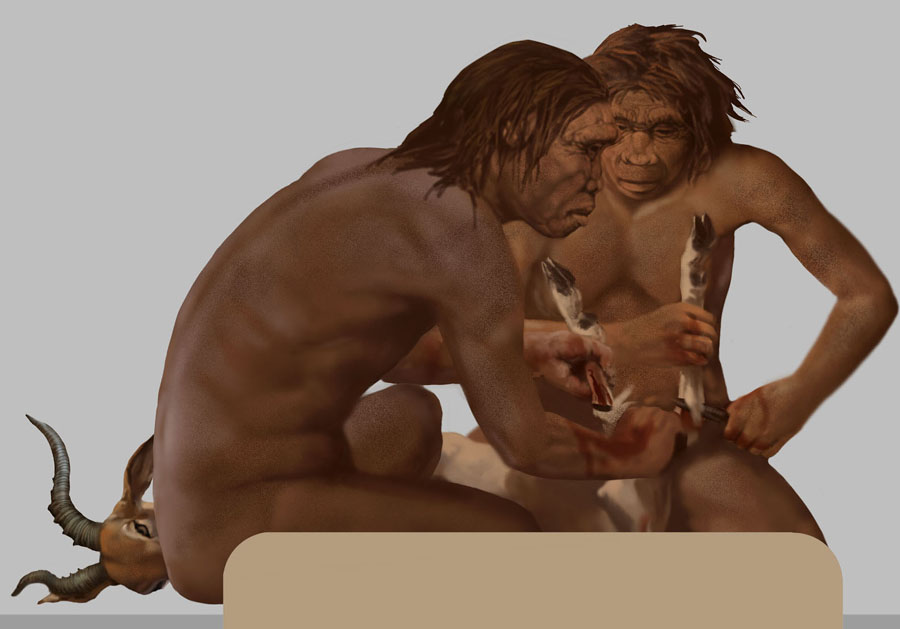 Time period shown: Pliocene
Pictured:
Homo habilis, the tool-using "handy man" who lived 2.3 to 1.4 million years ago.
About this image:
The site of Kanjera occurs on the Homa Peninsula of western Kenya. Itís located in the beautiful rural countryside, surrounded by eroded volcanic edifices, on the southern shore of the Winam Gulf of Lake Victoria. Excavations by a Smithsonian Ė National Museums of Kenya team began in 1987, and have continued under the leadership of Dr. Tom Plummer, who is now chairman of the Anthropology Department at Queens College, City University of New York. Tomís most recent excavations have focused on Kanjera South, where he, Rick Potts of the Smithsonian, and other members of the team have discovered the oldest archeological evidence of early human activities in a grassland environment, dating to 2 million years ago.
Did you know?
This species, one of the earliest members of the genus Homo, has a slightly larger braincase and smaller face and teeth than in Australopithecus or older hominin species. But it still retains some ape-like features, including long arms and a moderately-prognathic face.
Its name, which means Ďhandy maní, was given in 1964 because this species was thought to represent the first stone-tool maker. Currently, the oldest stone tools are dated slightly older than the oldest evidence of the genus Homo.
Notes:
Learn more on the
Smithsonian's site
.