Audubon Insectarium Bombardier Beetle detail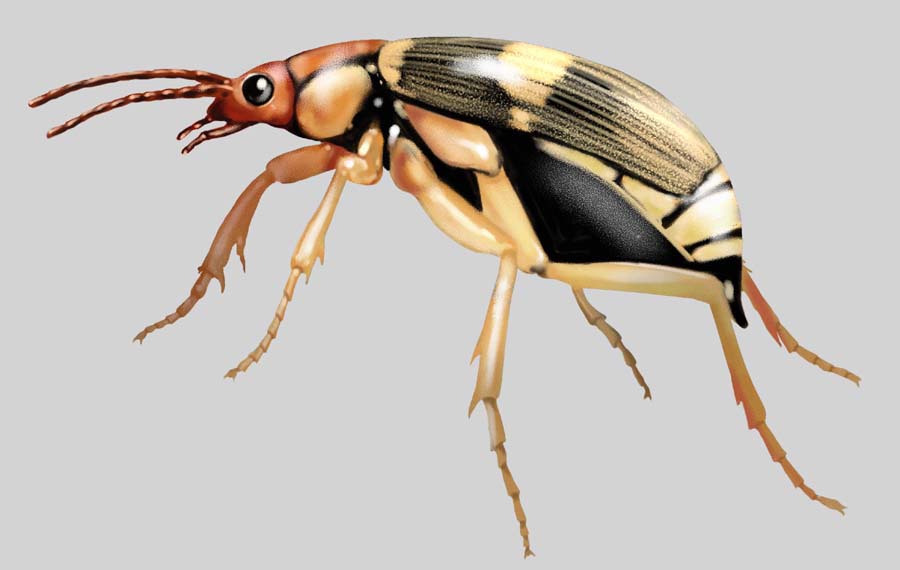 Time period shown: Modern

Pictured:
Bombardier beetle

About this image:
Bombardier beetles are common summer-time residents in southwest New Mexico, and seem to love to congregate under the water tanks near Karen's barn.

Did you know?
Wikipedia offers a great glimpse into these fascinating beetles:

The mechanism works like this: Secretory cells produce hydroquinones and hydrogen peroxide (and perhaps other chemicals, depending on the species), which collect in a reservoir. The reservoir opens through a muscle-controlled valve onto a thick-walled reaction chamber. This chamber is lined with cells that secrete catalases and peroxidases. When the contents of the reservoir are forced into the reaction chamber, the catalases and peroxidases rapidly break down the hydrogen peroxide and catalyze the oxidation of the hydroquinones into p-quinones. These reactions release free oxygen and generate enough heat to bring the mixture to the boiling point and vaporize about a fifth of it. Under pressure of the released gasses, the valve is forced closed, and the chemicals are expelled explosively through openings at the tip of the abdomen. Each spray consists of 70 very rapid pulses, causing a loud cracking sound similar to a bursting balloon. The spray can be aimed with precision in any direction, including forward over its back. This is done by bouncing the spray off a pair of skeletal reflectors stuck from the tip of its abdomen at the moment of ejection. This effectively deters predators, often causing blindness or death, and can be painful to human skin.