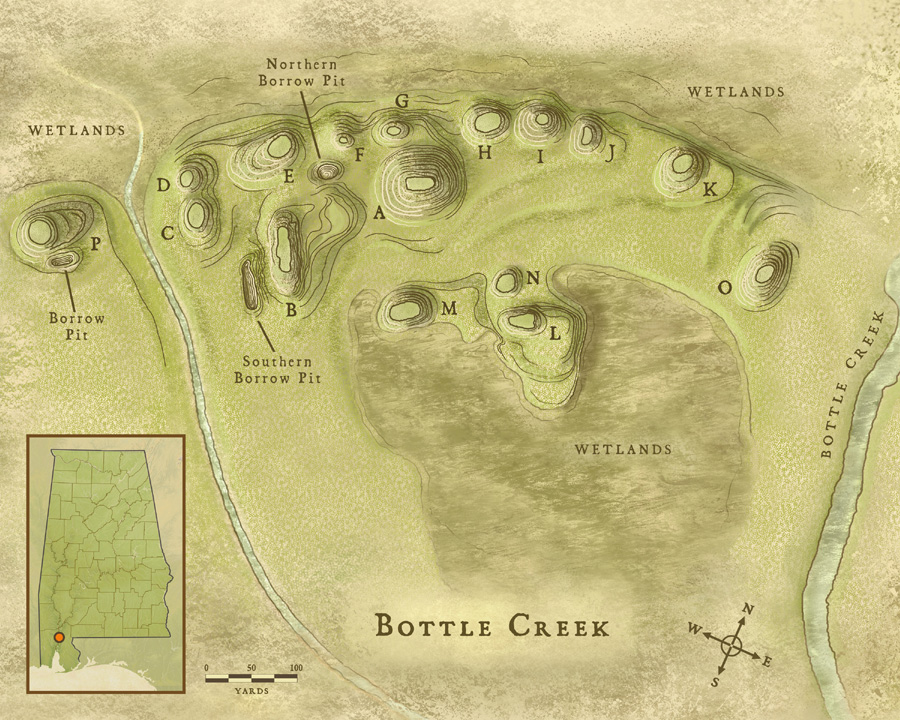 Time period shown: Modern

Pictured:
Bottle Creek mound site, in the Mobile-Tensaw delta of Alabama.

About this image:
Bottle Creek is one of the most important prehistoric Native American sites in Alabama, second only to Moundville. Located on Mound Island, in the heart of the Mobile-Tensaw Delta, it is the largest mound complex on the northern Gulf coastal plain.



Notes:
Bottle Creek was occupied from about 1250 and probably served as the principal political and religious center for what is now called Pensacola culture for the three centuries prior to European contact. Bottle Creek continued to be an important site for local Indians, such as the Mobilians, well into the eighteenth century, and French explorer and founder of Mobile Jean-Baptiste Le Moyne de Bienville, is believed to have visited the site in 1702. Now owned by the state of Alabama, Bottle Creek was declared a National Historic Landmark on March 10, 1995, joining Moundville Archaeological Park as the only other Native American site so recognized in the state of Alabama. It is administered by the Alabama Historical Commission.