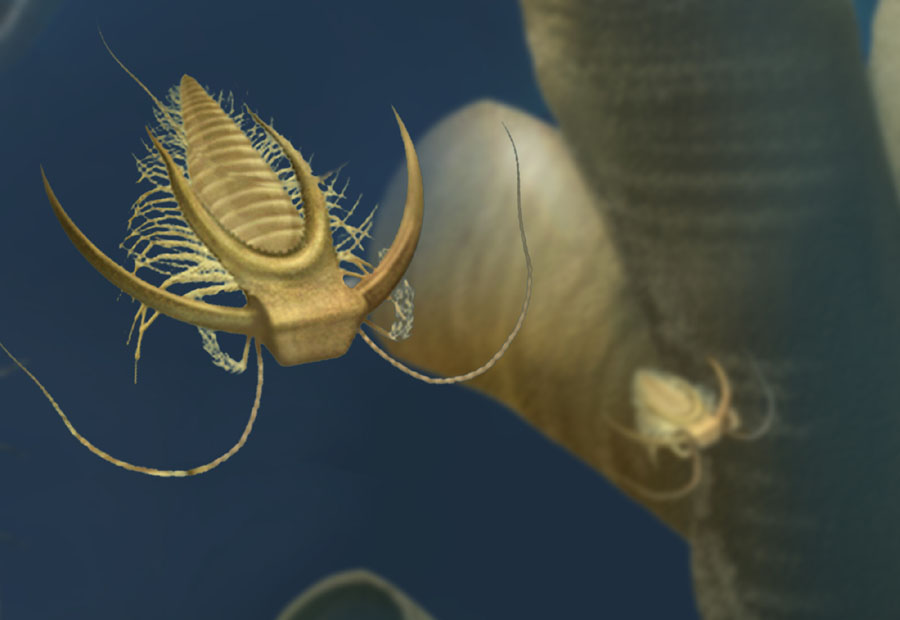 Time period shown: Cambrian

Pictured:
Marrella splendens

About this image:
Marrella is a small animal, 2 cm or less in length. The head shield has two pairs of long rearward spikes.

Did you know?
Marrella splendens is an arthropod from the Middle Cambrian Burgess Shale of British Columbia. It is the most common fossil in the Burgess Shale, with more than 15,000 specimens collected.


Notes:
Marrella was the first fossil collected by Charles Walcott from the Burgess Shale. Walcott described Marrella informally as a "lace crab" and described it more formally as an odd trilobite. It was later reassigned to the now defunct class Trilobitoidea in the Treatise on Invertebrate Paleontology. In 1971, Whittington did a thorough redescription of the animal and, on the basis of its legs, gills and head appendages, concluded that it was neither a trilobite, nor a chelicerate, nor a crustacean.

Taken with two other unexpectedly unique arthropod-like organisms, Opabinia and Yohoia, Marrella helped to demonstrate that the soft-bodied Burgess fauna was more complex and diverse than had previously been suspected.