Pachyrhachis problematicus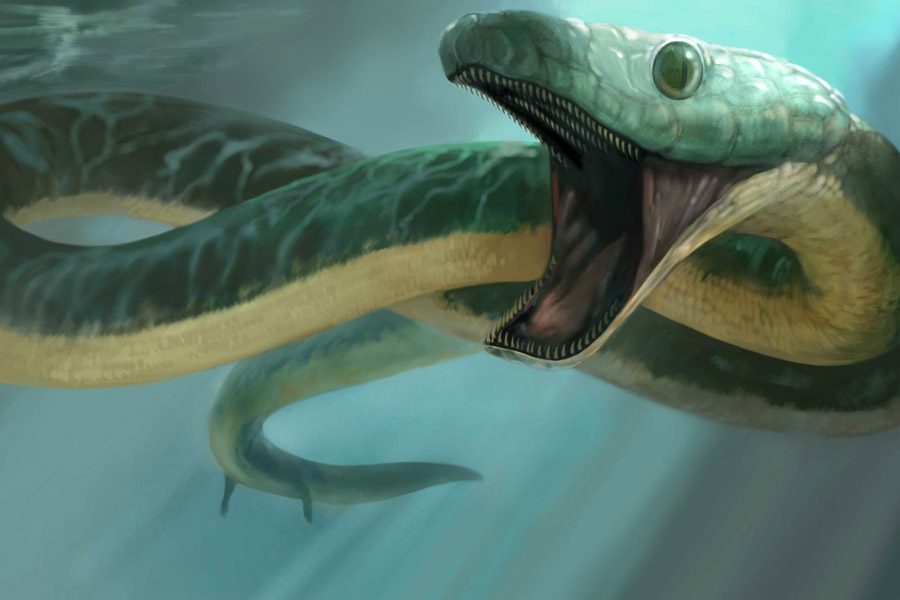 Time period shown: Cretaceous
Pictured:
Pachyrhachis problematicus
About this image:
Look closely: This swimming snake has two vestigial legs!
Notes:
Pachyrhachis problematicus is a snake with well-developed hind limbs known from two specimens from the Cenomanian of the Middle East. One specimen has a complete and articulated, albeit crushed skull. The second specimen has a disarticulated skull crushed beneath the body. Pachyrhachis has recently been at the center of a debate on the origins and relationships of snakes, specifically whether Pachyrhachis is the sister taxon to all other snakes, or alternatively, a relatively advanced snake allied with boids and pythonids. Workers using the same specimens arrived at different interpretations of the morphology underlying the alternative hypotheses. The most complete skull was resin-embedded and acid-prepared for its original study nearly three decades ago, rendering the dorsal surface difficult to view using optical techniques, and thus significantly hampering later studies. This study utilizes CT scanning and computer reconstruction to test conflicting interpretations of morphology and thus provides a method to falsify alternative phylogenetic hypotheses. Pachyrhachis is found to possess an inclined quadrate with a well-developed stylohyal process and lacking a suprastapedial process, no squamosal, and a single mental foramen. The separation of exoccipitals above the foramen magnum cannot be demonstrated. There is no jugal. Confirmed morphology best supports the phylogenetic hypothesis that Pachyrhachis is a basal macrostomatan snake. Limb retention in a basal macrostomatan snake implies that loss of hind limbs occurred multiple times within Serpentes.
Learn more!