Cretaceous Marine Environment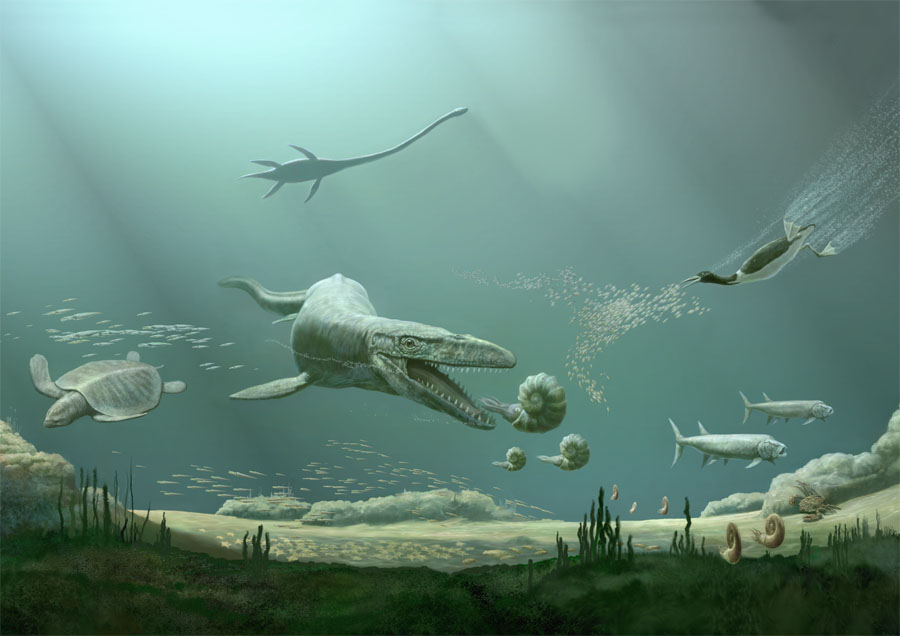 Time period shown: Cretaceous

Pictured:
Mosasaur, Pleisiosaur, Hesperornis, Protostega, belemnites, nautiloids, crabs, starfish and Xiphactinus

About this image:
One of Karen's most popular works, "Cretaceous Marine Environment" shows a host of Cretaceous underwater life, including a mosasaur hunting ammonites. Also featured are a long-necked Pleisiosaur, a loon-like Hesperornis and the turtle Protostega.

Displayed at The Sam Noble Oklahoma Museum of Natural History, "Cretaceous Undersea Environment" also gives a hint of the tremendous variety of life that existed but that rarely attracts the attention of Hollywood cinema: schools of belemnites and nautiloids, seafloor-dwelling crabs and starfish, and Xiphactinus, a Cretaceous fish somewhat resembling today's tarpon.

Karen's Ancient Life Series for The Sam Noble Oklahoma Museum of Natural History was selected in juried competition to appear in the Communication Arts annual illustration issue. Images are selected by a juried panel from among thousands of entries worldwide.