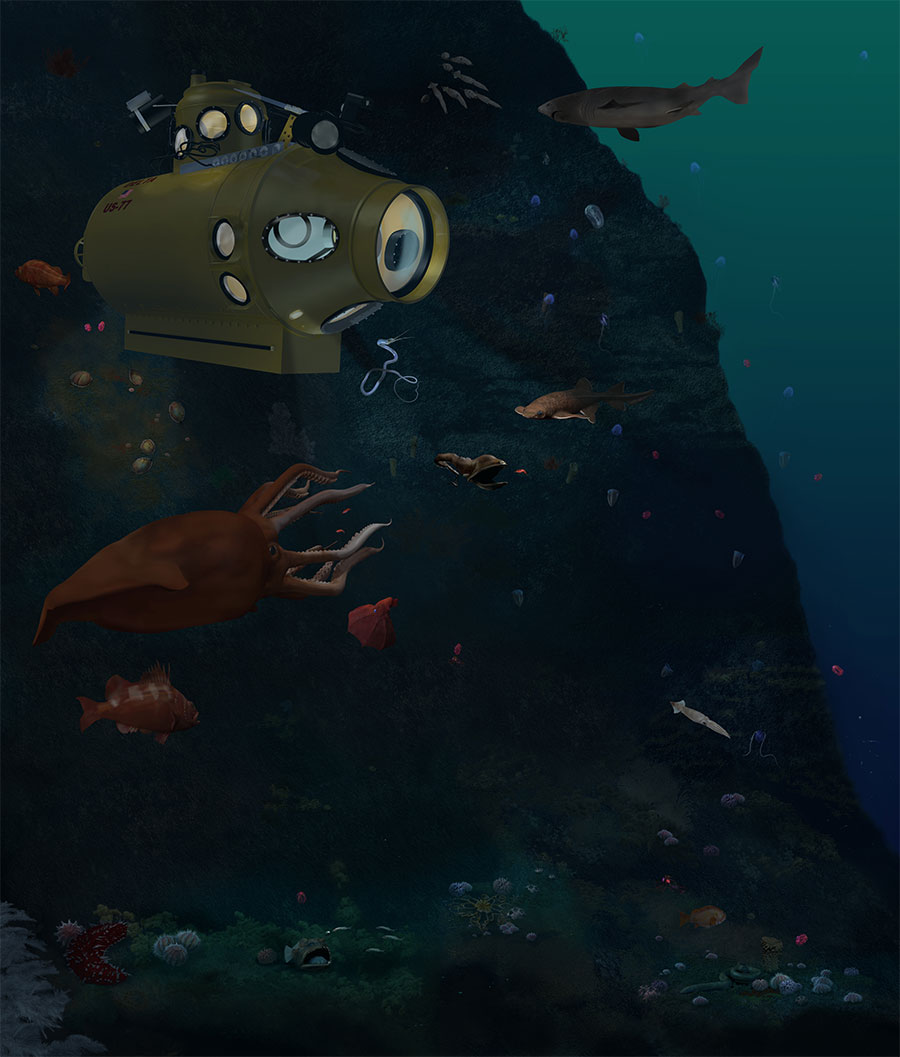 Time period shown: Modern

Pictured:
Bristlemouth, Dinner plate jelly, Erenna jellyfish, Giant siphonophore, Hula skirt siphonophore, Midwater jelly, Red sea fan, Deep sea corals, Sea whip, Bloodybelly comb jelly, Sea gooseberry, Deep sea anglerfish, Elephant seal, Fangtooth, Giant ostracod, Giant red mysid, Gulper eel, Hatchetfish, Longspine thornyhead, Midwater eelpout, Northern lampfish, Oarfish, Pacific blackdragon, Pacific hagfish, Pacific viperfish, Canary rockfish, Cowcod rockfish, Starry rockfish, Vermillion rockfish, Filetail catshark, Sleeper shark, Slender snipe eel, Goblet sponge, Spot prawn, Spotted ratfish, Squat lobster, Humbolt squid, Basket Star, Deep sea brittle star, Stoplight loosejaw, Tadpole snailfish, Deepwater salps, Predatory tunicate, Pyrosoma atlanticum, Salpa fusiformis, Fragile pink sea urchin

About this image:
Deep-sea canyon environment off the Channel Islands. Water in this area exceeds 12,000 feet in depth.

Did you know?
The Delta submersible has been called "the Jeep of the seas", and has performed more than 7,000 deep-water dives.