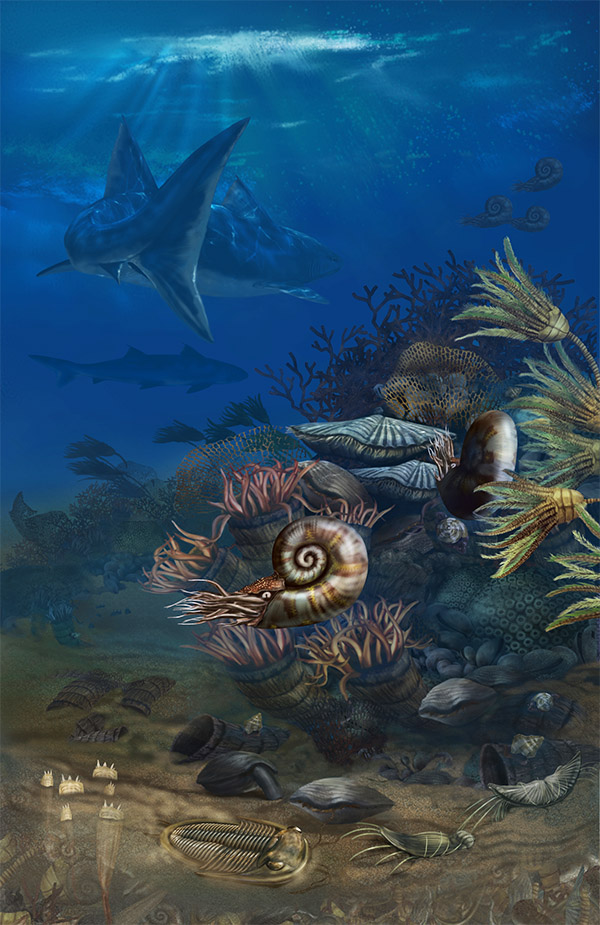 Time period shown: Permian

Pictured:
Animal residents of the Permian Kansas sea, including Ctenacanthus shark, Schistoceras missouriense, Rhombophore, Neospirifer, Crinoids, spiny brachiopods, rupose coral and kathwaia capitorosa.

About this image:
During the Permian (and for millions of years thereafter), what is now Kansas was part of a shallow sea extending up through the center of what is now North America.

An amazing diversity of life thrived in these ancient waters, and the chemistry of this shallow sea contributed directly to the geology of present-day Kansas.

Did you know?
The Flint Hills Discovery Center explores the geology, biology and cultural history of the Flint Hills – the last remaining tallgrass prairie in North America.

The Center educates visitors about the unique ecosystem of the tallgrass prairie, inspires them to become actively engaged in exploring firsthand the Flint Hills region and all it has to offer, and ultimately, to become better stewards of this important ecosystem.