Mississippian Ceremony mural detail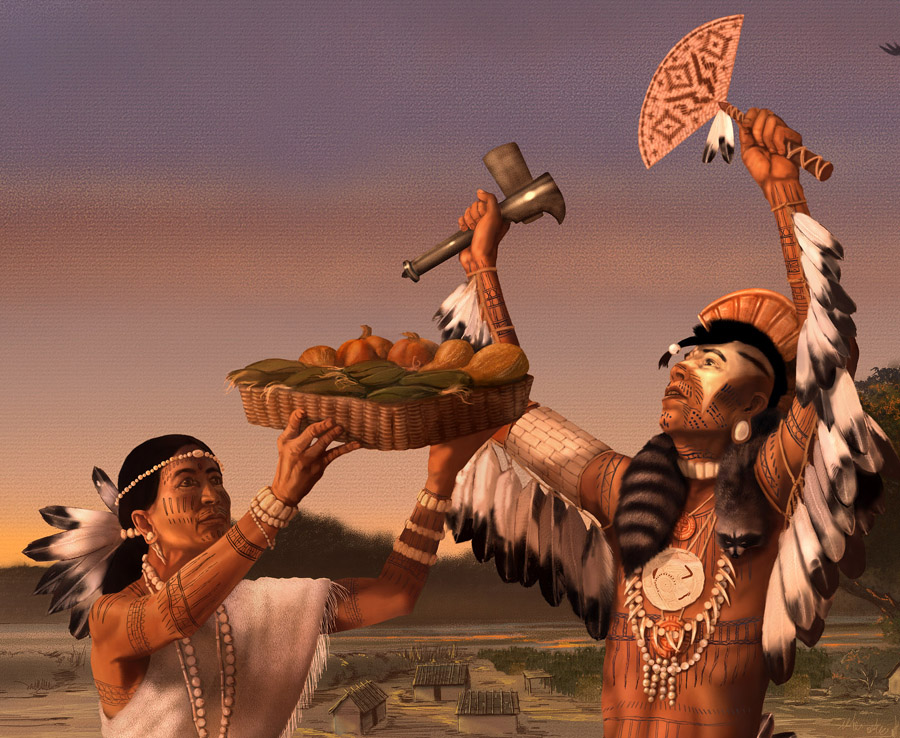 Time period shown: Modern

Pictured:
Mississippian-era Native Americans in a ceremony at Moundville, celebrating a first fruits ceremony. Ornaments and possessions include shell gorget, coon tail, gorgets, sash, feathered bustle, copper squares, ax, monolithic green stone celt, woven cane fan, decorated fan, cane basket, forelock beads, roached hair, copper ornaments, copper gorgets, Moundville pots and more

About this image:
About a thousand years ago, Alabama life was transformed by a new culture that spread east from the Mississippi River Valley. Improved farming methods and new varieties of corn provided a more reliable food supply. Ample food supported an expanding population and the development of complex religious and political systems.

Mississippian societies dominated eastern North America for nearly six centuries. Some of their huge ceremonial mounds can still be seen today.

Did you know?
Ritual and ceremony were central to Mississippian life. Elaborate ceremonies on the tops of mounds or in the public plaza marked changes of seasons and special events.

Mississippian people used a wide variety of finely crafted objects in their rituals and daily life. Some decorative items were primarily symbolic, reflecting themes of warfare, nature, ancestors, gods, and the afterlife. People wore body adornments such as pendants, necklaces, bracelets, earrings, and elaborate tattoos.