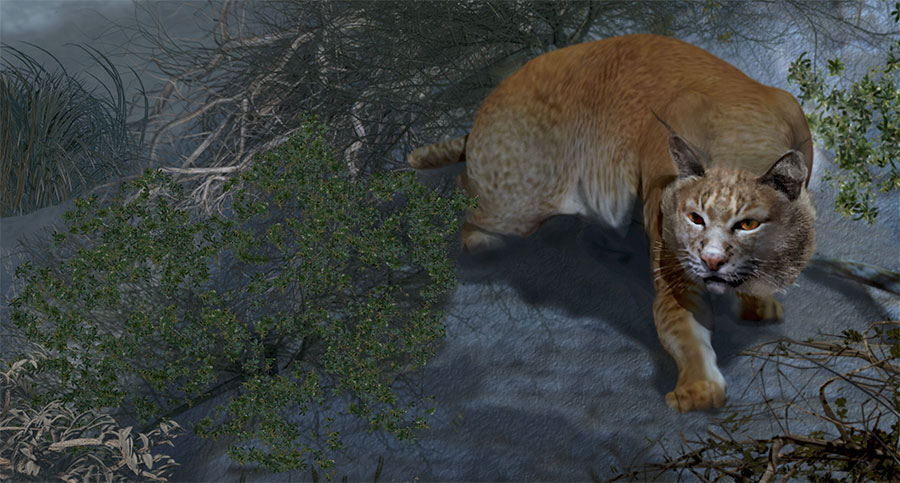 Shown: North American Bobcat, Lynx rufus
Geologic period: Modern
Bobcat detail, White Sands Moonlit Scene
Although the bobcat prefers rabbits and hares, it will hunt insects, chickens, geese and other birds and small rodents, and sometimes even deer. Prey selection depends on location and habitat, season, and abundance.

Like most cats, the bobcat is territorial and largely solitary, although with some overlap in home ranges. It uses several methods to mark its territorial boundaries, including claw marks and deposits of urine or feces. The bobcat breeds from winter into spring and has a gestation period of about two months.
Client information: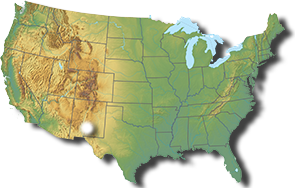 Karen in the classroom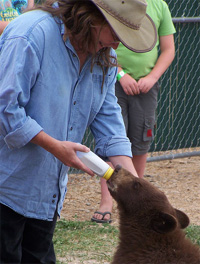 — As a guest speaker or lecturer
In addition to the time she spends painting, Karen finds time now and again to serve as a guest speaker, lecturer and instructor to museum groups, professional organizations, schools and universities. She has also presented master classes in art and digital painting at universities in the U.S.
Karen has delivered recent presentations for these institutions and groups:
Smithsonian National Museum of Natural History
Southern Methodist University
Guild of Natural Science Illustrators at the College of William & Mary and at Montana State University
New Mexico Highlands University
University of Texas at Arlington
University of North Texas
Dallas Paleontological Society

About Karen

Originally trained in the classical techniques of illustration and painting, Karen frequently speaks on the transition to a digital world, and on the challenges and benefits this transition poses for artists, clients and viewers. She conducts professional seminars on painting, illustration and digital image creation, and also offers specific programs tailored to the needs of professional groups or classroom instructors.
To contact Karen about a speaking engagement, just drop her a note or call her studio.